Events
HANIC 8: HANIC X NBA
Saturday June 6, 2020 7pm EDT Postponed
Featuring Seth Partnow , NBA Analyst at The Athletic and previous Director of Basketball Research for the Milwaukee Bucks.
HANIC 7: HANIC X NFL
Thursday May 21, 2020 8pm EDT
Featuring Michael Lopez , Director of Data and Analytics at the National Football League.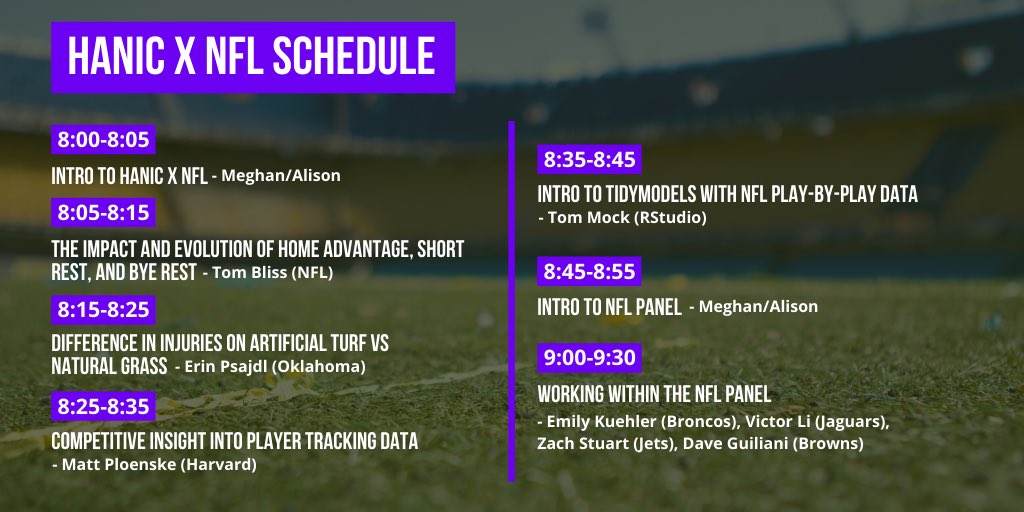 Speakers
Panelists: Working Within the NFL
Dave Giuliani, Cleveland Browns.
HANIC 6: HANIC X SOCCER
Saturday May 16, 2020 2pm EDT
Featuring Devin Pleuler , Director of Analytics for Toronto FC and Ravi Ramineni , Director of Analytics for Seattle Sounders FC.
HANIC 5: Advanced Hockey Analytics
Saturday May 2, 2020 7pm EDT
Michael Schuckers , Professor at St. Lawrence University, takes us through his paper "Draft by Numbers: Using Data and Analytics to Improve National Hockey League (NHL) Player Selection."
slides
Panelists
HANIC 4: Tracking in Hockey
Saturday April 25, 2020 7pm EDT
Alison Lukan on how to get started tracking in hockey.
slides
Special Guests
HANIC 3: Hockey Analytics + Moving on From Excel
Saturday April 18, 2020 7pm EDT
Meghan Hall on moving beyond Excel to make your analysis more reproducible, efficient, and shareable.
slides
video
Panel on Coaching in Analytics
HANIC 2: Web APIs
Saturday April 11, 2020 7pm EDT
Matthew Barlowe on an intro to working with web APIs.
slides
Special Guests
HANIC 1
Saturday March 28, 2020 7pm EDT
Micah Blake McCurdy on a new expected goals model.
slides
video
Andrew C. Thomas on how to start a stats website.
video
How to Get Into Sports Analytics
Women's Hockey
Other Speakers